The Nebraska State Historical Society Foundation has published a new book!
The Foundation raises money in support of the cause of Nebraska history from individuals and organizations across the state and beyond, who value Nebraska's unique heritage and wish to play a personal role in assuring that heritage is accessible to future generations. This new book captures an aspect of that history never before recorded!
From establishing the territory in 1854 to celebrating our state's centennial in 1967, Nebraskans united to mark their history. Scattered across our state are nearly 300 monuments, markers, statues, and plaques to the exploration, the cultures and their conflicts, the settlement, and the organization of Nebraska. They are found in our cities and along our highways and country roads, but also in our forests, our fields, and our hills. They mark history where it happened.
The Nebraska State Historical Society Foundation worked with Nebraska Book Award-winning author Jeff Barnes to produce Cut in Stone, Cast in Bronze: Nebraska's Historical Markers and Monuments, the first book to feature these touchstones from the past. Besides the history of each monument and how they came to be, the location and GPS coordinates of each are included to allow the reader site visits of his own.
All donation amounts are accepted for this book.
This richly illustrated keepsake book is of limited quantity and will likely sell out swiftly.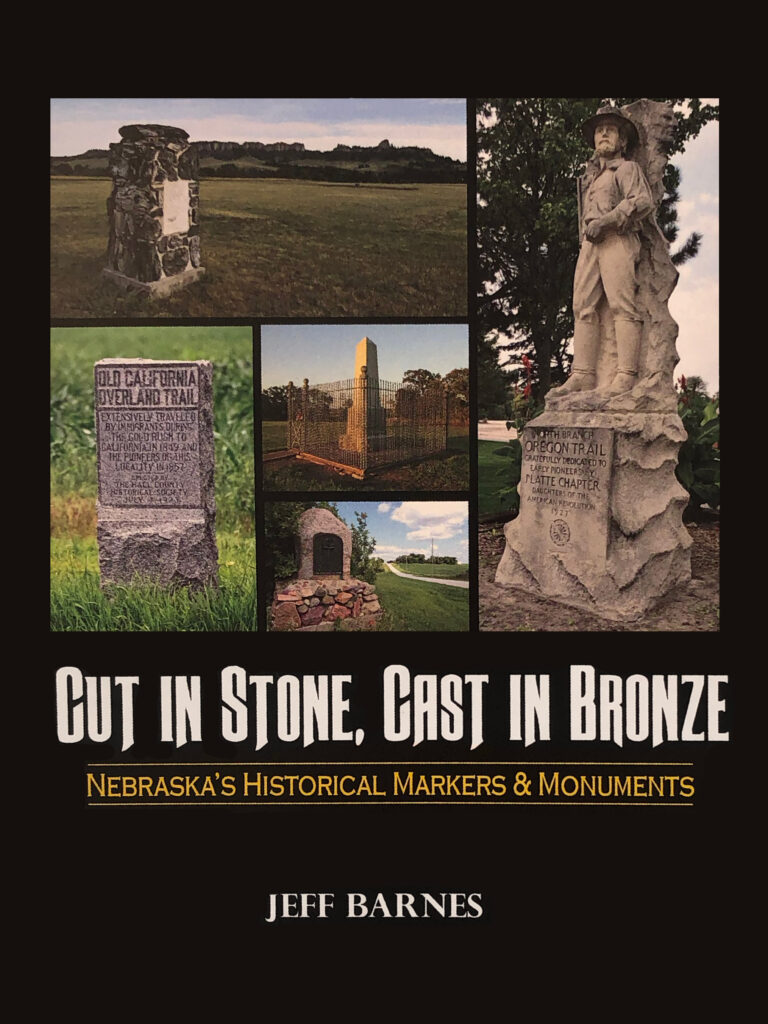 Thank you to our donors so far:
John and Catherine Angle Charitable Trust
Justin and Belinda Boelter
Katie Darling
Diamond Springs
Dillon Foundation
First Northeast Bank of Nebraska
Robert Frels
Frontier County Historical Society
Russell Gifford
Paul Grinvals
Brandon Jacobsen
Sue and Kendall Kjoller
Ron and Judy Parks

Neal Razlaff
Jewell Shanley
Wava Wageman
Garry Wells
Susan Williams
Randa Zalman and Jim Svoboda