Leslie Fattig
Executive Director
lfattig@nshsf.org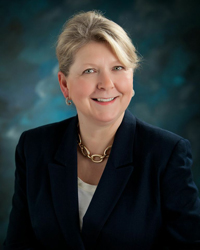 Prior to joining the Foundation, Leslie was the Founder and President of AmeriMax Financial Corporation in Frankfort, Illinois. She has more than 30 years experience in executive level management and operations. Leslie graduated from Peru State College, Peru, NE, with a Bachelor of Applied Science in Management, and is currently working toward completion of a Master of Science in Organizational Management. She and her husband, Marty, live in Auburn, Nebraska. They have four children and three grandchildren, and enjoy raising Quarter Horses, gardening, and golf.
Tony Dworak
Development Director
tdworak@nshsf.org
Tony Dworak has an extensive background in the development profession, starting at the Nebraska Division of Travel and Tourism, where in 1996, he authored a 20-year industry development plan that helped attract over $2 million in private and public funding for identified tourism projects across the State of Nebraska.
After leaving state government in 1999, Dworak led the fundraising efforts of the University of Nebraska College of Law, the Columbus (Nebraska) Community Hospital Foundation, and the Silverton (Oregon) Hospital Network. From 2011 to 2015, Dworak served as the major gift officer for Nebraska Wesleyan University.
Tony and Tam Dworak have three children at home in Lincoln, where Tam teaches at Pius X High School. The Dworaks enjoy family time of all kinds, especially the outdoor recreational and historic offerings of Brownville, Nebraska.
Dworak traces his interest in Nebraska history and tourism back to the influence of his father, Don Dworak, who served as a Nebraska state senator from Columbus from 1974 to 1982. Senator Dworak helped lead several initiatives aimed at improving recreational and educational opportunities for all Nebraskans, including the Nebraska Habitat Stamp Act of 1976, and the legislation to purchase and renovate the current Nebraska State Museum building in 1979 and 1980.
Lori Heaton
Office Manager
lheaton@nshsf.org


Lori Heaton has been the business manager for the Nebraska State Historical Society Foundation since late 2014 and says she still learns something new every day. Her enthusiasm for Nebraska history has grown tremendously and she is very proud to work in a position that helps promote and preserve that history.  She is a life-long Nebraskan, having been born in Creighton.  She and her husband, Scott, spent 24 years raising their three children in Ponca and now call Lincoln home.  Although her favorite activity is spending time with her kids and four-year-old grandson, she also loves going to craft shows, rummage sales and thrift shops and attending events at the Lied Center and other local venues.